Politics and Insights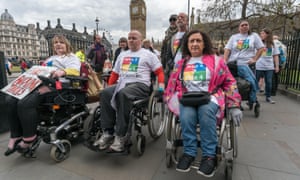 A recent research report launched last month by anti-poverty charity Zacchaeus 2000 Trust (Z2K) reveals the devastating impacts that the government's welfare reforms are having on the lives of people who are disabled or severely unwell. 
Those benefits that were supposed to provide support for disabled people – Employment and Support Allowance (ESA) and Personal Independence Payment (PIP) – are leaving hundreds of thousands of disabled and unwell people wrongly assessed and denied the vital Social Security benefit they are entitled to. Without this essential income, many people are pushed into debt, face rent arrears and eviction and have to rely on food banks to survive.
Poor design and implementation of the assessments means PIP and ESA are failing, forcing ill and disabled people to go through arduous and distressing reviews and appeals processes just to access the payments they are entitled to. The numbers of people who are…
View original post 1,061 more words